The Best Website for the Best Hands in the Business
When their outdated website became a chore to manage and a hassle for members to access, BAC Local 1 partnered with BRIO to build a new WordPress membership website. Their asks:
Bring the website up to current design and usability standards.
Give current members a smooth transition to their new online account.
Increase access to information through the website to provide more value to members.
Make the website easier for the staff to manage.
Straightforward access and clear navigation makes managing a union website with 1000s of members a breeze.
BAC is the oldest continuous union in North America, representing the most highly skilled trowel trades craftworkers since 1865. Like all chapters, Local 1 improves their members' quality of life through access to fair wages, good benefits, safe working conditions, and solidarity among members.
When Local 1 originally partnered with BRIO in 2012, it was to build their first website that members could log in to and gain access to restricted content.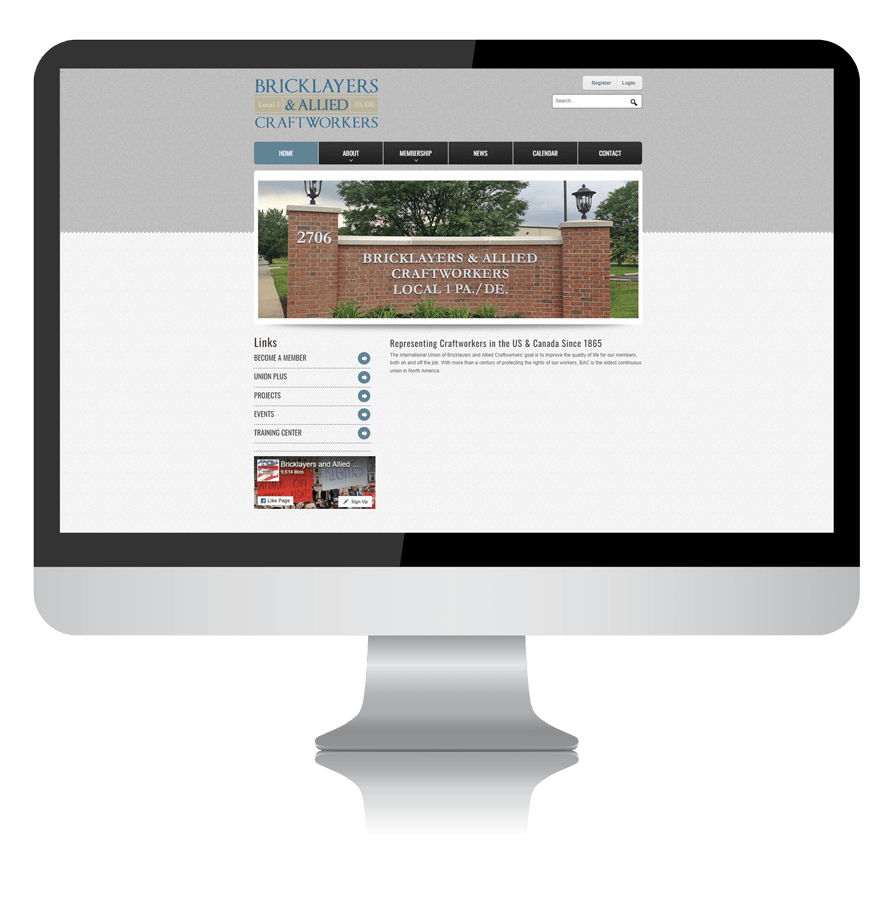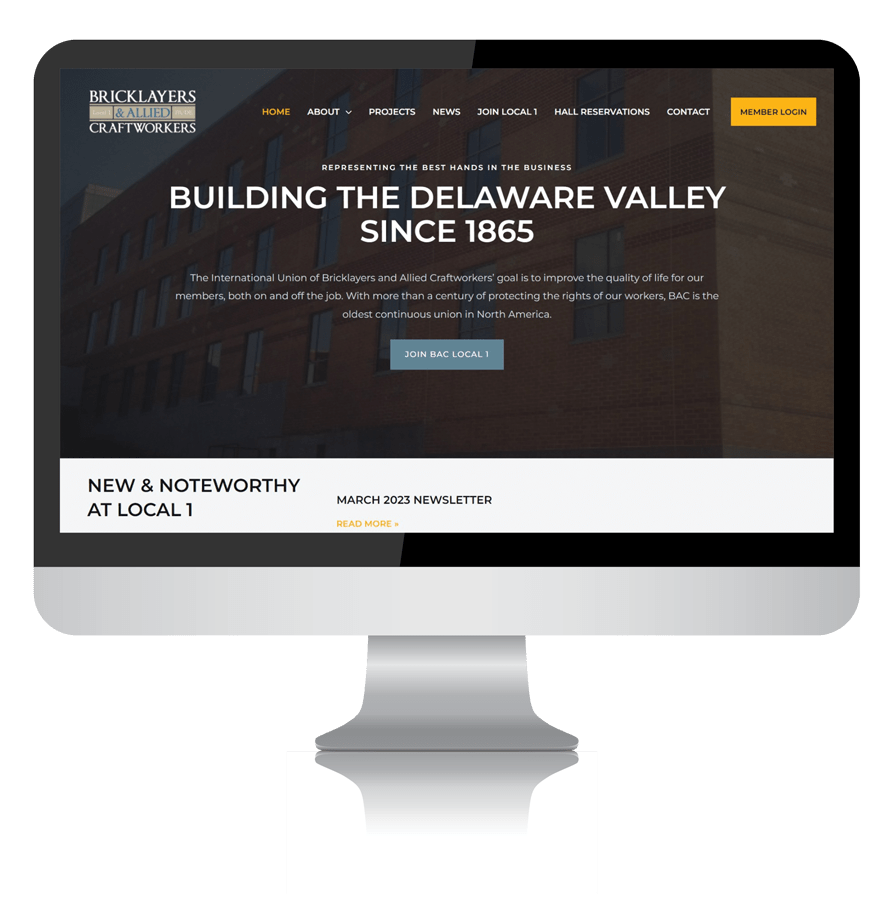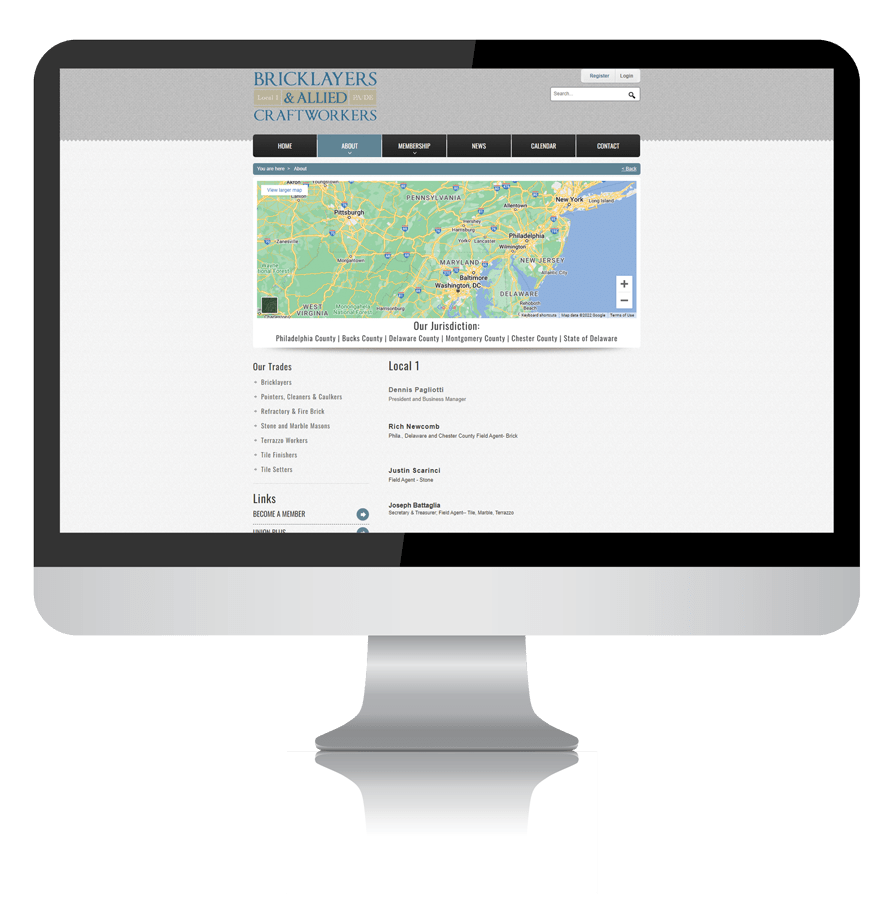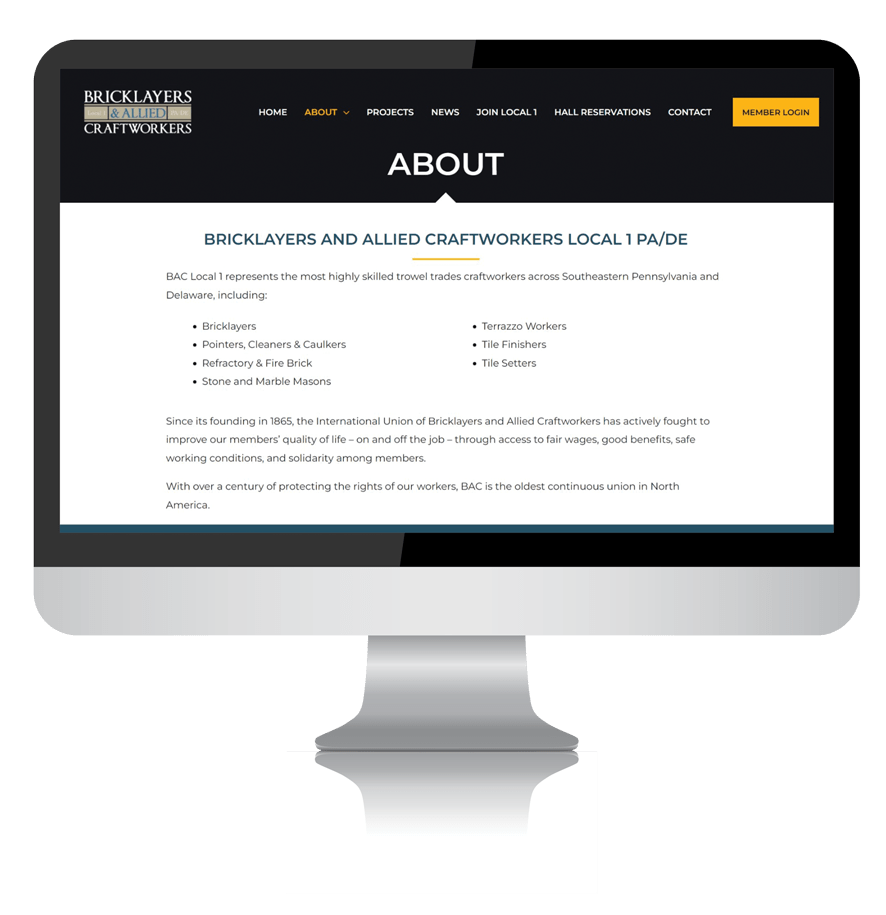 Years later, the core technology that the site was built on reached end of life. Basic functionality like resetting passwords was cumbersome or flat out didn't work anymore.
The website had become a widely relied upon tool for members and a trusted way for the union to disseminate information quickly. Stabilizing the site meant that Local 1 could continue to reliably communicate with members and reduce the need for 1:1 conversations around basic member questions and needs.
Designing a new online experience for members and prospects alike.
We kicked off the project with a thorough review of the existing website. What worked? What didn't? What would it be really helpful for the website to do that it doesn't now?
After auditing content and discussing goals, we focused on a members first approach, putting their needs at the forefront of our design and content development process. Because the website is one of the key ways that Local 1 shares information with members, it was critical to provide clear paths to:
Request a website account for new members;
Login to the site as an existing member;
Securely reset passwords.
As a secondary focus, the Local 1 website needed to appeal to an audience of potential union members by showcasing projects and people, showing credibility and history, and highlighting ways to join the union.
The magic behind the curtains: features for members only.
The members-only pages on the website are organized into 3 sections that represent the union's main offices, mimicking the structure that members are used to interacting with in real life.
Once logged in, members can:
Access current information about their wages and benefits;
See and subscribe to a calendar of events;
Pay their dues;
Learn about and contact important union representatives;
Request updates to their personal information;
Understand and utilize union resources, benefits, and scholarships;
Stay up-to-date on what's happening with other union members.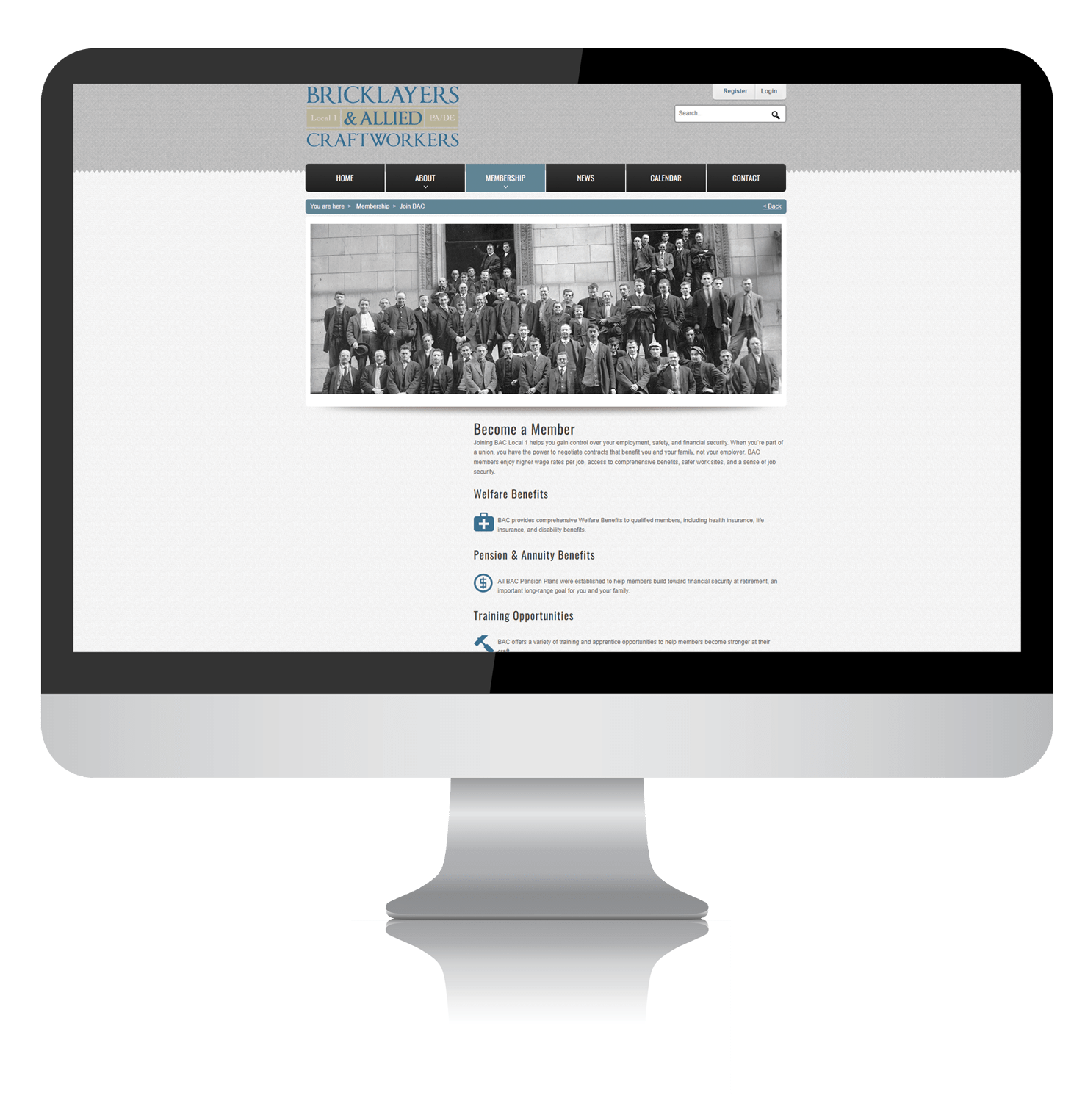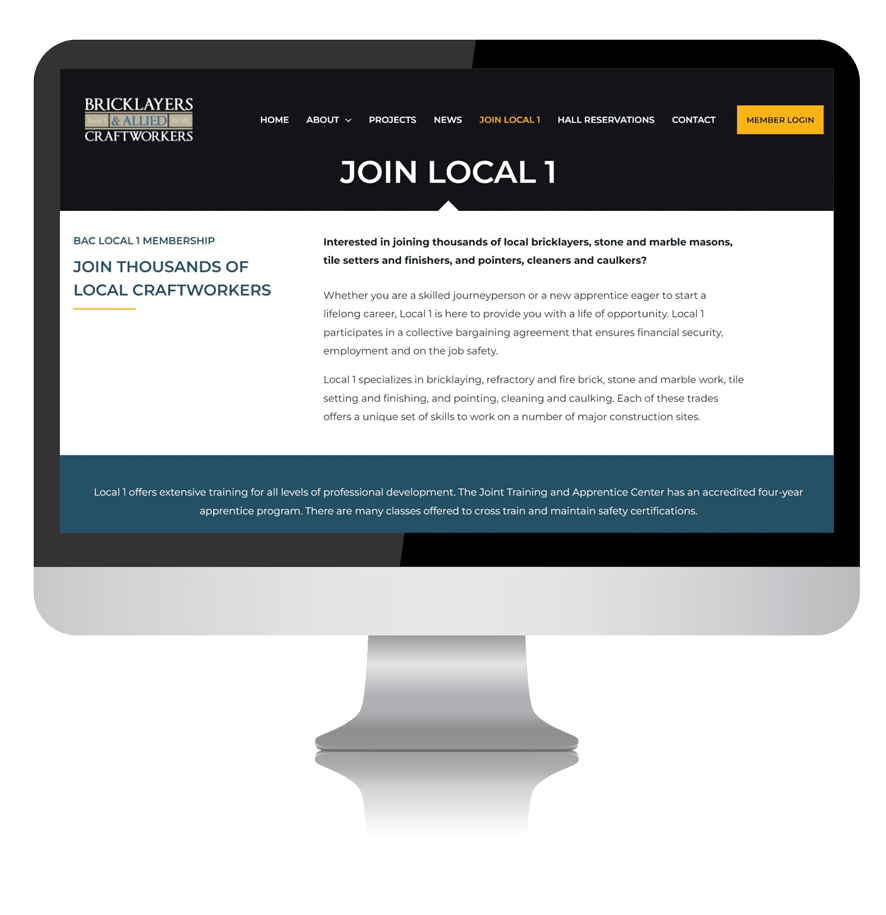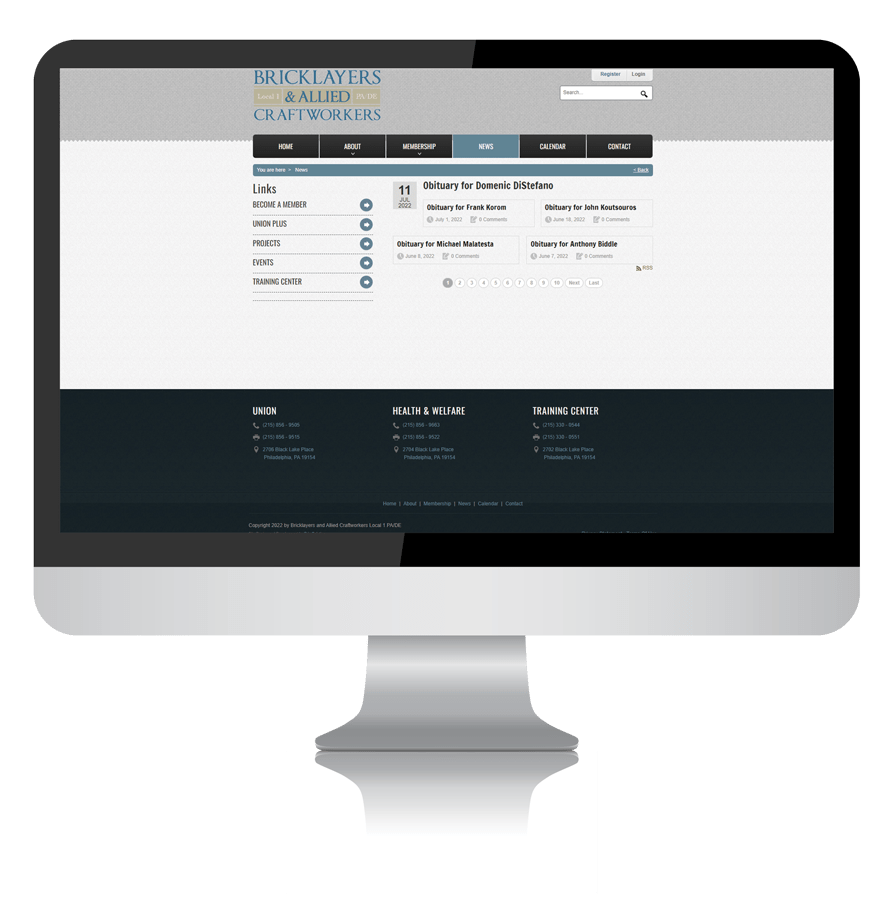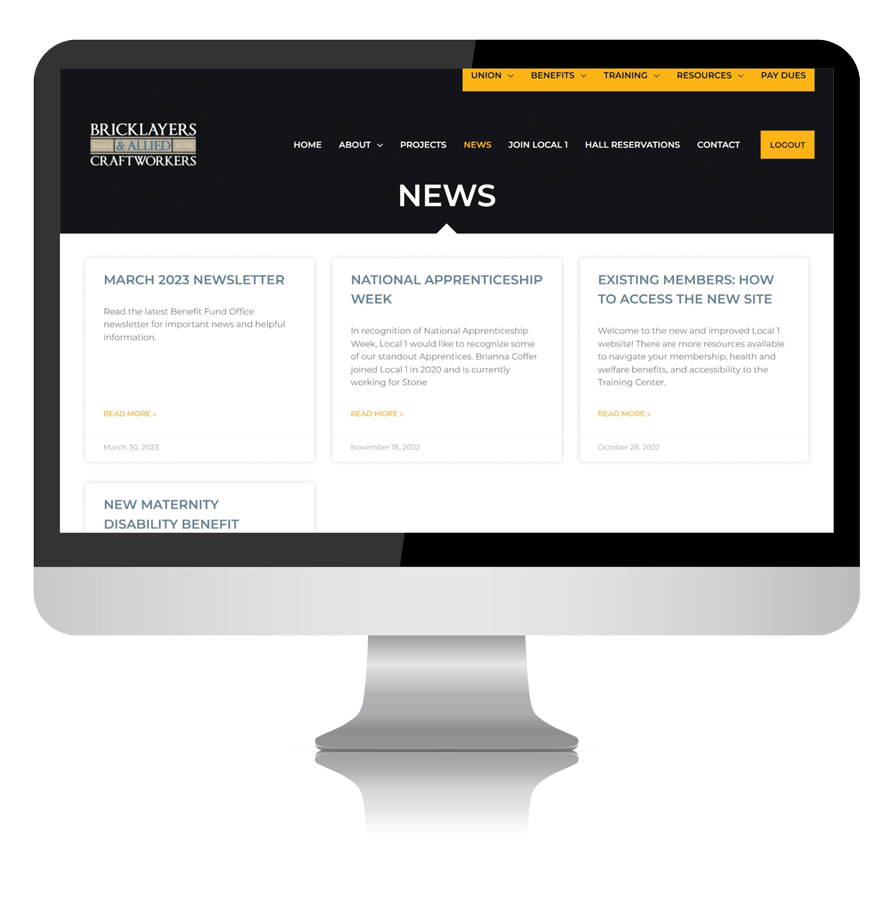 Because the website has publicly available projects and contractors, Local 1 also has the ability to promote their members by showcasing their work.
The result? A website as solid as their construction.
The union's new WordPress membership website represents their brand: professional, well designed, and accessible.
Built on WordPress with Elementor, the site is backed by reliable technology that's widely supported, secure, and easy to use — for members and union staff.
With WordPress, BRIO and Local 1 grew their online content library to provide more and better information for members and prospects alike. And, because it provides great opportunities for interaction, usage among members is up.
Best of all, the website is fully responsive, and now Local 1 members can access the website from any device with an internet connection.
What BAC Says
BRIO brought our vision to life to make access to information for our members straightforward and effortless. We worked with BRIO to see what structure would be most effective for both our members and for us to manage their use of the website. The process was both vigorous and gratifying when we were able to see our members easily access the information they needed and gave us an opportunity to expand the website as a resource.

Angela Amarhanov, BAC Membership Coordinator